Unblock Netflix on a LG Smart TV
Tutorial: How to Unblock Netflix on a LG Smart TV Using a VPN/DNS Provider

If you want to unblock Netflix on your LG Smart TV, the first thing you have to understand is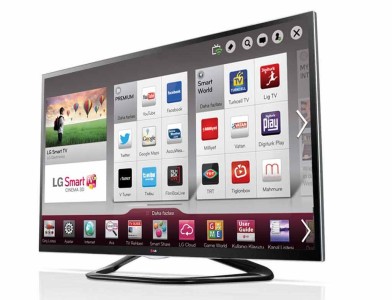 that Netflix uses your IP Address to locate you. If the IP Adress you got from your Internet Service Provider is associated with another country (there are lists on which IP address belongs to which country), Netflix blocks their videostream. This is called geoblocking.
Why do they do this? Because they only have the license to stream their movies and shows to specific coutries. Its similar to the region code on DVDs. To unblock other Netflix regions on the LG Smart TV, it is best to use a DNS service, such as Overplay,  SmartDNS Proxy or Unblock-Us.
We have the best ones listed for you – but there are various alternatives are available, research them and sign up for the one which best suits you. Under the following table with the best Smart DNS Providers youll find a detailed step by step guide on how to set up your LG Smart TV..
How to set up Smart DNS to unblock Netflix on a LG Smart TV:
When one wishes to unblock Netflix on an LG Smart TV, the first step is to navigate to the dashboard by pressing the "Home" button on the remote control.
On the lower portion of the screen, the cursor will need to select the "settings" option.
A separate window will then appear.
Up and down arrow keys will be used to scroll through a vertical menu found on the left-hand side of this window.
The "option" section should be highlighted and chosen.
Another menu will be displayed that includes such choices as standby light, dual play and factory reset.
Immediately below factory reset, the choice "Smart TV Setting" should be selected.
An entirely different screen will then be displayed.  On the top portion of this screen there will be a horizontal menu bar.
This section includes selections such as Smart TV country, premium version, ID list and reset.
The RESET option needs to be highlighted and selected.
The television will display "Change Country for Premium and LG Smart World" and the current country that the device is set for.
Immediately below this information, two options will appear: auto and manual.
The manual button should be chosen.
Once this is completed, the smart television will display a list of different countries (this list may vary from region to region).
Choosing one of these countries will configure the LG smart television to this location.
Thereafter, the page should be closed using the top button on the right-hand corner of the screen.
Alternatively, the exit option on the remote control can be pressed.
Finally, the home option should be chosen on the controller.
Then, the Netflix app can be activated.
Signing in will be completed as usual.  This should enable Netflix to be accessed.
Should this not work, it is advised to repeat the aforementioned steps and choose a different country from the list provided.
Here are the best DNS Services for LG Smart TVs
Above the table is a description on how to set up your LG Smart TVs DNS Settings to unblock Netflix anywhere in the world:
Provider
Specials
Supported Devices
Payment Methods
Prices

Specials
7 days free trial!
14 days money back
Unblocks 22 countries
Supports 170+ Channels
Devices
Windows, Mac OS X, iPhone / iPad, IPod, Android, Roku, Samsung Smart TV, Xbox 360, Apple TV, Playstation 3

Specials
14 days free trial!
Devices
Windows, Mac OS, Chromebook, Android, iPad, iPod, iPhone, PS3, PS4, PS Vita, Wii U, XBox 360, Roku, Apple TV, Google TV, Boxee Box, WD TV, Smart TV, Chromecast
Prices
$4.95 / monthly
$12.90 / 3 months
$34.90 / 1 year
$49.90 / 2 years
view all offers »
Check out BestSmartDNS for a big comparison of SmartDNS for LG SmartTV.
What our Users are searching for:
american netflix on lg smart tv
american netflix on lg smart tv uk
can you get netflix on lg smart tv u
how to get american netflix on lg smart tv
how to get netflix on lg smart tv australia
how to get us netflix on lg smart tv
netflix app on lg smart tv australia
netflix on lg bp340
netflix on lg g2
netflix on lg g3
netflix on lg smart tv australia
netflix on lg smart tv nz
netflix on lg smart tv south africa
netflix on lg smart tv uk
netflix on lg tv australia
netflix on lg tv in canada
netflix on lg tv not working
netflix on lg tv uk
netflix usa in uk on lg smart tv
netflix usa in uk on lg tv
no netflix on lg tv uk
reset netflix on lg tv
us netflix lg tv uk
us netflix on lg smart tv uk
watch netflix on lg smart tv australia
All of them should have found their answer on this page. If you have further questions, please write it on our Questions & Answers page.
You may also be interested in..